10% of the Annual Revenue
Invested in R&D
Valdus achieves tech leadership in the industry through continuous capital investment and by expanding its R&D talents.
We insist on independent R&D in all phases and provide customers with efficient solutions.
With a scientific R&D management process and the implementation of high international standards, Valdus successfully produces the most reliable products for global customers.
Intelligent Hardware Solution
Product Design
ID design
Product function definition
SCM Software Development
Product function development
Hardware operation interface development
Intelligent algorithm development
SCM software output
Finished Product Assembly
Small batch trial production
Product inspectionGutentor Advanced Text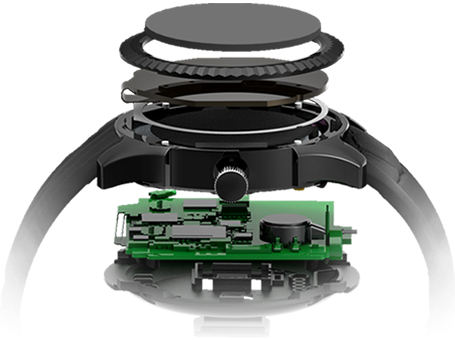 PCB Design
Component selection and finalization
Board design drawing output
Product Structure Design
MD structure size definition
Board size standard
PCBA Production
Board Processing and Placement
Board Test
Non-performing rate control specification
Independent R&D Algorithms
Independent research and development of core algorithms based on acceleration sensors and ECG sensors.
A powerful algorithm team independently develops algorithms for step counting, heart rate, sleep, calories, distance, and swimming.
The accuracy of monitoring data is aligned with industry benchmark companies, leading the industry.
Valdus was one of the first wristband manufacturers in the industry to offer heart rate solutions.
Product UI Design
Valdus firmly believes that innovation is the soul of enterprise development.
We have about 250+ R&D technical experts and engineers, mainly distributed in R&D and design departments
The interfaces are beautiful and easy to understand with the minimalistic UI design.
Professional Firmware Team
Our team is capable of modifying and upgrading firmware according to specific requirements, as well as addressing and resolving any bugs or manufacturing issues that arise.
Reliable Function Development
More innovative functions developed by our R&D team to come.
The intelligent and user-friendly design concepts ensure better user experience.