The world of smartwatches has evolved significantly, offering a range of features that elevate our daily lives. In this comprehensive comparison, we will explore the distinctions between the smartwatches Hello Watch 3 and Hello Watch 2. These square Design wearables combine sleek designs with advanced functionalities, catering to the needs of tech enthusiasts. Let's dive into the intricacies dissect two device's specifications in detail. and discover which smartwatch better to choose.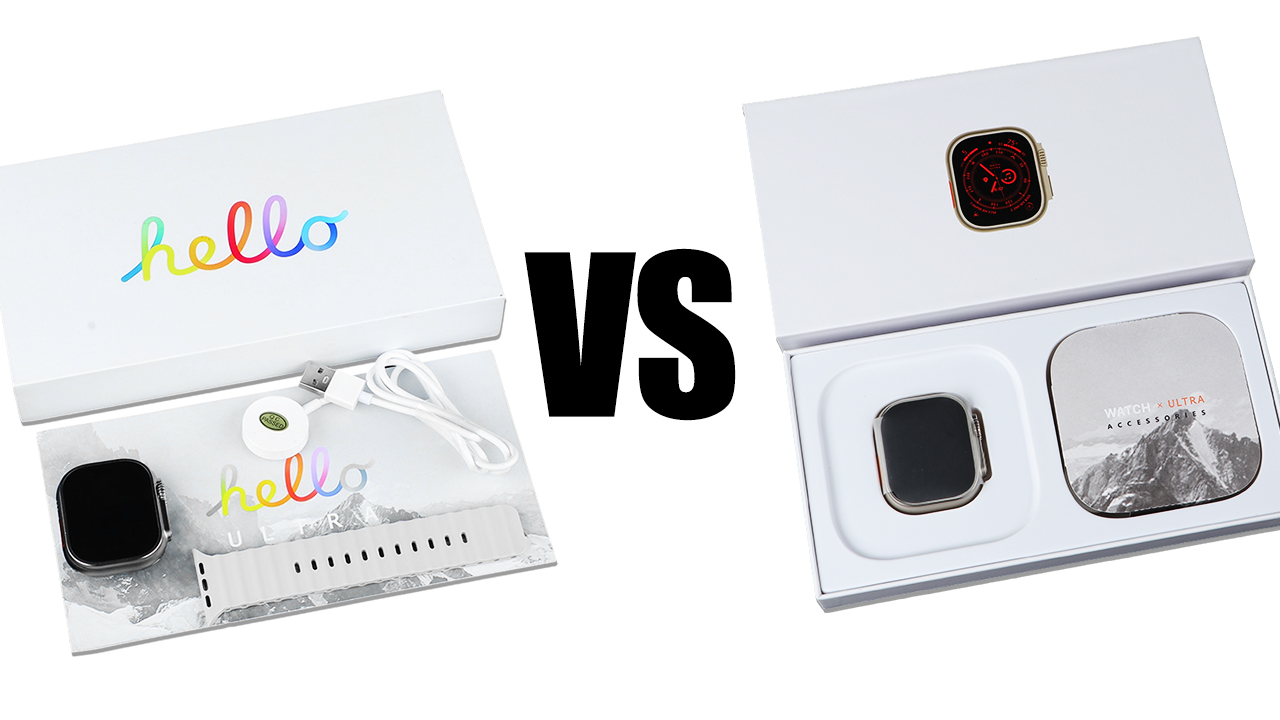 Hello Watch 2: A Testament to Reliability
The Hello Watch 2 boasts a 1:1 case with a titanium alloy build, offering durability and elegance. With dimensions of 494313.8mm and a weight of 55g, it strikes a perfect balance between comfort and style.
The Watch 2's IP68 waterproof rating allows you to wear it without worry, even in challenging environments. Its impressive 2.02-inch AMOLED screen, with a resolution of 368*448 pixels and an always-on display feature, guarantees a vibrant and convenient user experience.
Hello Watch 2 Equipped with a heart-rate sensor, Bluetooth version 5.0, NFC access control, and Bluetooth calling, it offers a comprehensive range of features.
With multi-sport modes and a 450mAh battery supporting wireless charging, the Watch 2 accommodates active lifestyles. The RTL8763EWE Chip Dual-core processor and two compass modes contribute to its reliable performance.
Hello Watch 3: The Pinnacle of Innovation
Similar to its successor, the Hello Watch 3 showcases a square 1:1 case with a titanium alloy construction and strap lock mechanism, exuding durability. With dimensions of 494413mm and a weight of 70g, it offers a comfortable and lightweight experience.
The Hello Watch 3 provides 4GB storage for local music and 128M RAM, sufficient for your favorite tracks. Its IP68 waterproof rating ensures peace of mind during water-based activities. The device features a 2.04 Inches AMOLED screen with a resolution of 368*448 pixels, presenting vibrant visuals.
Hello Watch 3 brings a lot of improvements over its predecessor to offer a more well-rounded experience. It comes with a new design that looks similar to its flagship siblings in the Hello Watch 2. The Hello Watch 3 also feels much more premium than most other Smartwatches in this segment. It's also more durable now, thanks to Electroplating Process.
With the A16 Chipset Dual-core processor and two compass modes, the system ensures smooth performance, making the Hello Watch 3 a true game-changer.The device is powered by a 450mAh battery, offering up to 5 days of use, and supports wireless charging. Moreover, the Hello Watch 3 incorporates a heart-rate sensor, Bluetooth version 5.3, NFC access control, and Bluetooth calling functionality.
One of the highlights of this Smartwatch is that it sports a beautiful AMOLED panel with High resolution . Not only is this display brighter than the one you get on its predecessor, but it also enhances the visuals for a better display exquisite picture quanlity presentation.
Conclusion:
As we conclude our comparison, it is evident that two smartwatches possesses its unique strengths.

The Hello Watch 3 sets the benchmark with its extensive storage capacity, vibrant AMOLED screen, and enhanced Bluetooth capabilities. The Hello Watch 2 excels in reliability, multi-sport modes, and LCD screen quality.
For budget-conscious individuals, you can consider your preferences, requirements, and budget to make an informed decision about wearable technology.
In conclusion, the Hello Watch 3 is an outstanding smartwatch that combines style, functionality, and advanced features. With its upgraded specifications, extensive range of functions, and compatibility with various devices, it aims to deliver an exceptional user experience. Stay tuned for the official release.It is important to note that the specifications and functions mentioned above are subject to final confirmation after bulk production.